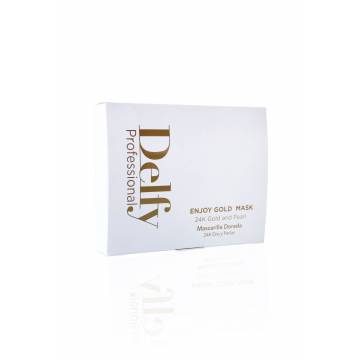 Enjoy Gold Mask
This peel-off ENJOY GOLD MASK has a soft structure with a gold colour and is a true skin renewal booster. Applied as a past, it comes off in one piece after the treatment. It provides gentle removing of impurities and of excess sebum in order to reveal beautiful and radiant skin. The treatment revives dull skin, helps the skin to retain moisture and leaves it smooth and radiant. 
The mask contains 100% natural pearl-powder, which are formed of layers of the active substances Conchiolin and Aragonite around a nucleus. Aragonite contains calcium carbonate in form of highly laminate crystals, which is important for the organism well being.
Directions for use: 
Use: 30g powder + 90ml water.
Use: 30g powder + 90ml water.
Directions for use: 
3 packets of powder are given in the package. Place 1 packet of powder in a small amount and add cool water. It is important that the water is cool, because in the case of hot water, it will evaporate quickly and you will have a hard time redistributing the mass on the face. Prepare a pasty mass and spread it all over the face, neck and décolleté area as a thick mass, including the edges.
Do not use it as a very thin mass, as it will be more difficult to remove. Wait 30 minutes until the mask is completely dry and start removing the mask from the edge.
At the end of the procedure we can apply Delfy Golden Serum and day/night cream.
Use: 30g powder + 90ml water.
Reviews Enjoy Gold Mask
No customer reviews for the moment.