Free shipping on all orders over €90!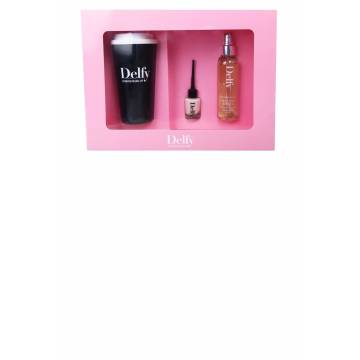 Pink gift box 805
¿Necesitas ayuda o quieres realizar el pedido por teléfono?
local_shipping
Cargando fecha de entrega...

This amazing Pink gift box contains 3 amazing products 1 Fragrance mist Million Roses and 1 nail Lacquer (Color Cream). Gift also contains black color tea mug.


Fragrance mist Million Roses. Citric freshness accompanied by delicate floral note surrounding the rose, awakening the imagination and the most profound feeling of love.

Capacity: 150ml.


Professional quality nail polish with shiny, powerful colours for up to seven days. The gel texture gives an extreme lacquered shine and an ideal level of fluidity for perfect control and great ease of application. Citral, a natural active ingredient with strengthening and hardening properties, seals and protects the nails creating an unscratchable armor of light.

Capacity 15ml


Reviews Pink gift box 805
No customer reviews for the moment.